Associated PhD candidates
"AI is one of today's most groundbreaking technologies. Its potential for helping with the climate and biodiversity crises seems infinite, e.g. for early warning systems, sustainable resource use or detection of climate extremes and their impacts."
"I am glad to see that we are already on the map of Europe's most excellent research units for environmental AI. With the support of the Carl-Zeiss-Stiftung, the Friedrich Schiller University Jena, and the EU commission, this will only grow in the future. Our impact even goes beyond Earth sciences: For instance, the machine learning methods we develop in this context are already applied to data from medicine and psychology"
The ELLIS Unit Jena supports the overall vision of the ELLIS Society by performing foundational research in modern artificial intelligence by advancing both spatio-temporally inspired fundamental machine learning research and applied machine-learning for complex system (i.e. Earth and Environmental systems) understanding including the important aspect of knowledge integration.
The combination of the PIs in the unit, with strong expertise in both machine-learning, causal analysis, hybrid modeling and geo-spatio-temporal analysis including statistical inference, together with a proven collaboration among the core and associated members in publication and co-supervision activities, H2020 collaborative projects, and three ERC Grants, is a great opportunity to fundamentally advance both machine learning and geo-scientific aspects.
The unit members are committed to contribute to the ELLIS network in various ways, from reviewing and workshop convening, to public relations, outreach to industry, NGOs and policy makers at national, EU and global levels.
In addition to ELLIS Units, a European network of top researchers working at locations throughout Europe is being established, organized into ELLIS Programs. These Programs, directed by outstanding European researchers and including leading researchers as Program Fellows, focus on high-impact problem areas that have the potential to move the needle in modern AI.
The ELLIS Programs are inspired by the CIFAR Program model, and closely collaborate with the CIFAR LMB (Learning in Machines and Brains) Program. Each Program has a budget for 2-3 workshops/year to enable meetings of 10-15 Fellows plus guests for intensive scientific exchange. Workshops can be co-located with academic meetings (usually) held in Europe, or organised as stand-alone events, usually at (and with the support of) ELLIS unit sites.
The researchers of the ELLIS Unit Jena are connected to the ELLIS Network most strongly via the ELLIS program "Machine Learning for Earth and Climate Science", the EU project ELISE and individual collaborations with fellows and scholars.
The ELLIS Unit Jena is participating in the ELLIS PhD Program and Postdoc Program.
Both programs offer outstanding young scientists from all over the world a unique entry point to cutting-edge machine learning research across Europe.
The ELLIS PhD and Postdoc Program supports excellent young researchers by connecting them to leading researchers across Europe and offering a variety of networking and training activities, including summer schools and workshops. ELLIS PhDs and postdocs conduct cutting-edge curiosity-driven research in machine learning or a related research area with the goal of publishing in top-tier conferences in the field.
PhD students and postdocs in the academic track strive for international collaboration as they partner with two European academic institutions in their research. These candidates are supervised by two advisors from different European countries: one of the advisors must be an ELLIS fellow/scholar or unit faculty; the other advisor should be an ELLIS fellow, scholar, unit faculty or member. PhDs and postdocs in the program visit the exchange institution for min. 6 months (the partitioning of this time is flexible). Normally, the exchange is partially sponsored by the exchange institution; ELLIS PhD students and postdocs are also eligible to apply for the ELISE mobility grant.
There is a yearly central call for applications in fall, which are announced on the ELLIS Society website. Admission to the program is competitive. In a typical round, less than 5% of all registered applicants, and between 5-10% of eligible applicants are accepted.
The next chance to apply to the ELLIS PhD Program via the central recruiting will be in the fall of 2023 (deadline November 2023). 
– October: application portal opens
– November 15 (23:59 CET): application deadline
– November/December: review phase
– January/February: interviews
– Late February/March: decisions
– Program start: there is no common start for the PhD (depends on the advisor/institution)
For PhD students who are already working as a PhD with an ELLIS Fellow or Member and wish to join the ELLIS PhD program, check out our secondary path to join the program under "How to join ELLIS as a PhD or postdoc".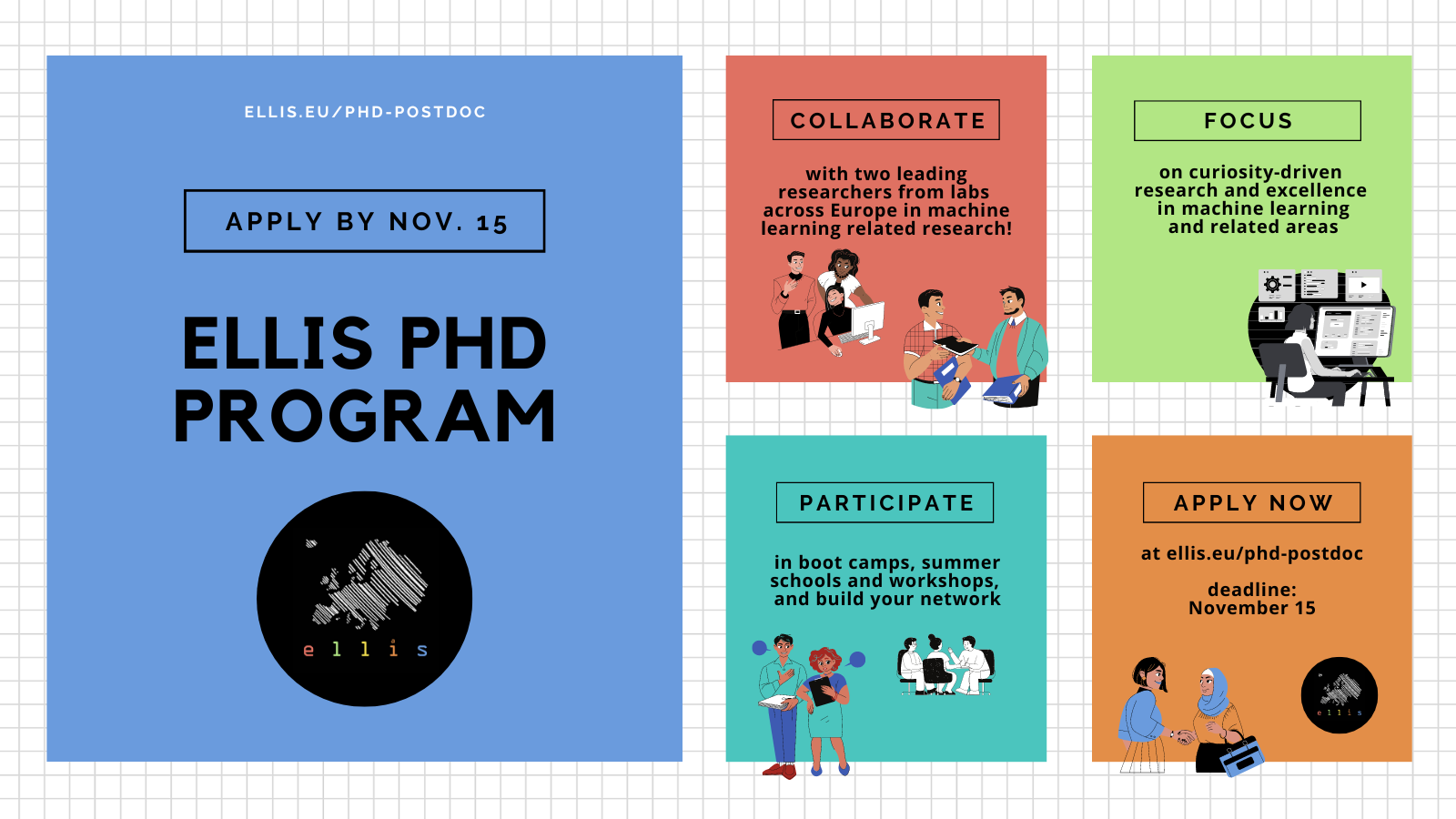 The IMPRS-gBGC offers fully-funded PhD positions to outstanding students who wish to study the components essential to life and climate from the atomic to global scales. At the intersections of biosphere, atmosphere, lithosphere, land, and ocean, research at the school focuses on how biogeochemical cycles function, how they are interconnected, and how they can be influenced by climate change or human activity.
Over 100 scientists and PhDs explore the different facets of biogeochemical processes using diverse methods such as field observations, advanced laboratory methods, manipulative experiments, data mining and numerical modeling. Taking advantage of this diverse assortment of specialties, we hope to improve our ability to gauge future developments of Earth systems.
Doctoral researchers are offered access to an array of workshops and courses in order to develop a broad understanding of Earth system science. Young scientists benefit from a three-month international research visit at a top institution, as well as courses aimed at enhancing interdisciplinary knowledge (e.g. statistics, remote sensing, modeling, and analytical techniques). In addition to scientific skills, the research program offers a breadth of transferable skills (e.g. presentation skills, scientific writing, project management) to ensure both a successful PhD and career. Learn more …
Applying for the ELLIS Society at the ELLIS Unit Jena and the IMPRS-gBGC can open doors to a world of exciting research opportunities, collaboration, skill development, and global exposure. Both offer a platform for you to contribute to groundbreaking research while expanding your horizons as a PhD researcher:
Cutting-Edge Research Opportunities: Being a part of both the ELLIS Society and the IMPRS-gBGC opens doors to engaging in cutting-edge research projects and collaborations. These institutions are known for their commitment to pushing the boundaries of knowledge and innovation.

Interdisciplinary Exposure: Both ELLIS and IMPRS-gBGC foster interdisciplinary environments, allowing you to interact with experts from diverse fields. This exposure can enrich your research perspective and lead to creative problem-solving.

Networking and Collaboration: Membership in these prestigious organizations provides you with access to a global network of researchers, scientists, and professionals. This network can lead to meaningful collaborations, joint projects, and opportunities to exchange ideas.

Skill Enhancement: ELLIS and IMPRS-gBGC offer various training programs, workshops, and seminars that can help you enhance your technical and professional skills. These resources contribute to your growth as a well-rounded researcher.

Resource Availability: Both organizations provide access to state-of-the-art facilities, tools, and resources necessary for conducting high-quality research. This ensures that you have the support you need to excel in your work.

Visibility and Recognition: Being affiliated with ELLIS and IMPRS-gBGC can enhance your visibility within the research community. Their reputations for excellence can lead to increased recognition for your work and contributions.

International Exposure: ELLIS and IMPRS-gBGC have a strong international presence, allowing you to engage with researchers from around the world. This exposure can broaden your horizons and help you stay informed about global advancements in your field.

Mentorship and Guidance: These organizations often provide mentorship programs, offering you valuable guidance from experienced researchers. Mentorship can be instrumental in shaping your research direction and career path.

Impactful Research: Through ELLIS and IMPRS-gBGC, you'll have the opportunity to work on research that addresses real-world challenges and makes a positive impact on society.

Personal and Professional Growth: Joining these institutions can lead to significant personal and professional growth. The experience, knowledge, and connections gained can contribute to your long-term success in the field of research.
IMPRS-gBGC
November 21 – January 8: Application period
January 8 – January 23: Selection of top candidates and pre-interviews
March 7-8: Selection symposium 
end of October: Decision
Program start: flexible
ELLIS PhD Program
October 1 – November 15: Application period
November/December: Review phase
January/February: Interviews
Late February/March: Decisions
Program start: There is no common start for the PhD (depends on the advisor/institution)