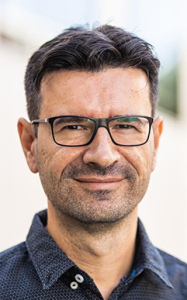 Prof. Dr. Miguel Mahecha
ELLIS Fellow and Fellow of the ELLIS program "Machine Learning for Earth and Climate Science"
Professor for Modelling Approaches in Remote Sensing at the Leipzig University,
Leader of the "Earth System Data Science" group at the Remote Sensing Centre for Earth System Research
Phone: +49 341 97-32801
Mail: miguel.mahecha@uni-leipzig.de
List of Publications: Google Scholar
Miguel is a full professor at the University of Leipzig, where he leads the "Earth System Data Science" group at the Remote Sensing Centre for Earth System Research. His main scholarly interests are on i) global environmental change questions, ii) understanding ecosystem responses to climate variability, iii) macroecological dynamics and ecosystem functioning, and iv) the human environment nexus. His research is based on latest data-driven research methods, with the aim to explore high-dimensional Earth observations. Miguel studied Geoecology
(Universities of Bayreuth and Exeter), and received his PhD from the ETH Zurich in 2009. He worked as PostDoctoral researcher, and later as Research Group Leader at the MPI-BGC. He served as steering committee member for iLEAPS and several projects. He was the coordinator of a H2020 project (BACI) and of several ESA projects (CAB-LAB, CAB-LAB2, ESDL). Miguel was among the funding members of the MSCJ and has just been proposed as PI of the future of ScaDS.AI (Center for Scalable Data Analytics and Artificial Intelligence) Dresden/Leipzig.
Miguel has been awarded with the Bernd-Rendel-Prize by the DFG and the medal of the ETH. Since 2020 he is an ELLIS fellow, and since 2021 he serves in the editorial board of "Environmental Data Science" (Cambridge University Press). According to google his work (more than 80 publications) is cited over 8k times, with an h-index of 36.
Phone: +49 341 97-32801
Mail: miguel.mahecha@uni-leipzig.de
Google Scholar: https://scholar.google.com/citations?user=TVfLgPAAAAAJ&hl=en